The Great Escape
HOSPITALITY MANAGEMENT
and skills TRAINING
Opportunities
Rwanda is growing, both in prestige and in opportunities. The number of international hotels and restaurants continues to increase. Along with this increase in number, the service in Rwanda is rising to international standards. This means that skilled personnel in hospitality are in great demand, especially those with excellent communication skills in English.
The Great Escape is a project that the Cornerstone Foundation has set up and has been supporting since 2017. It is a TVET (Technical Vocational Education and Training) Institution, accredited by WDA (Work Placement Agency). The WDA is the government body that arranges the curricula and the accreditation . The Great Escape Institute offers Diploma programs in Restaurant Service Management (DRSM) and General Hospitality Management (DGHM). Both courses give a foundation in all the practical skills needed in hospitality, plus a specialisation.
The program was set up to train young women from the Compassion International program, but it has been so successful that we have opened the training to everyone who has a passion and ambition to succeed in the Hospitality sector. Students who successfully complete this training, will be highly skilled hospitality personnel, able to find work in international hotels, restaurants and other service industries inside and outside Rwanda.
The courses include Hospitality management, Restaurant management, Food & Beverages service, Basic food production, Entrepreneurship, English Speaking for the Hospitality business, Effective Communication in the workplace, Leadership skills, Mindset and Creative Thinking skills, and many more.
The program
The Great Escape offers different Diplomas and Certificate programs. These include:
Diploma in Hospitality Management (DGHM) (22 months, 6 trimesters)
Diploma in Restaurant Service Management (DRSM) (22 months, 6 trimesters)
Intermediate Certificate in Hospitality Management : (16 months, 4 trimesters)
Certificate in Hospitality Industry: (12 months, 3 trimesters)
Short course Certificate in Hospitality: (15 weeks, 1 trimester)
Industrial Short Course Certificates: (8-12 weeks)
Graduation
At the end of each trimester students take exams. Completing them successfully indicates that the students are competent in both Hospitality and English (speaking, listening, reading and writing).
By the time a student finishes trimester five, and the last 2 months of internship, she/he qualifies for a Diploma in General Hospitality Management or a Restaurant Service Management Diploma, depending on the chosen specialisation. This takes 22 Months of training and four months of internship.
And then?
It is of course important that students find suitable employment. This is why the students are taught how to find a job as part of the course. They practice this when they apply for their internships.
We are happy to report that a significant number of our students who completed the course have found suitable work, while others have gone on to further their education at university.
A recent survey conducted among former students found that none of them had had work/income at the start of training. Currently (June 2020) 75% of them have jobs, more than half of them in the hospitality industry, and 25% are doing a follow-up study.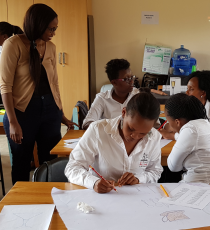 the Team
We work with a highly specialised team, with each member focused on a particular subject or field.
We are a mixed team of different nationalities, all with experience in the Hospitality business or education.
Why do students join this program?
Management and practical skills combined
The programs are TVET Diploma and Certificate levels which prepare graduates to work in hospitality management positions. The Institute distinguishes itself from other educational establishments by its emphasis on practical skills training. The graduate will have skills to compete in the hospitality labor market and even mentor or train other staff in hotels, restaurants and other service related industries in and outside Rwanda.
English language studies
The students receive intensive English language training, with a particular focus on the language used in public speaking and various hospitality settings. For instance: in different restaurant situations, at the bar, at reception, and customer service. The training is practical and allows the student to acquire the necessary listening and speaking skills needed in the industry.
Our Role
As cornerstone foundation we work closely with the team of Over The Moon in Rwanda in the field of organisation, education and finance.
The aim is to involve more local people in the project, so that in the future they will take on these tasks themselves, and our role will be reduced.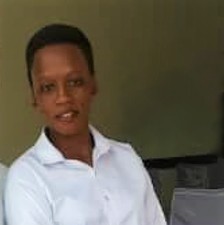 I finished high school in 2010, and spent several years at home helping my parents. But in 2018 my sister sent me to The Great Escape. When I went there, they welcomed me as parents.
I thank the The Great Escape organisation, because since then my life has changed. I have learned many useful things, which have helped me enormously in my life!
First of all, I've learned to be confident. I learned to speak in public. They also took us to the Marriott hotel and the Convention Centre. It was the first time I was there, and we really enjoyed it – a new world opened up for us. We were allowed to meet the staff and ask them questions. It has greatly increased my self-confidence to be part of the program.
Why do I say all these words? I have managed to gain a good position, not in the hospitality industry but in 'Reach the children Rwanda International', an NGO. There were many candidates with many qualifications, and I had my Senior 6 certificate, the Certificate of Food and Beverage from the Great Escape and other certificates. I was able to do my interview well because of the English I had learned, and was hired for the job as an administrative assistant.